Pottering with asylum children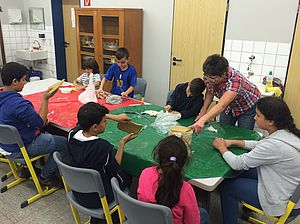 Once a week interested children in the ages 6 to 13 years into our training room to make pottery.

Under expert guidance the group kneads, squeeze and punches the clay until it is soft. The 6-8 girls and boys shape with baking role modeling stick or simply with their fingers. Great bowls, custom name badges or other beautiful decorative objects are built.

The children are incredibly focused on the task and are very happy about the self-created works.
Die gebrannten Kunstwerke werden abschließend mit unterschiedlichen Glasuren originell verziert.

Einige Ergebnisse unserer Arbeit sehen Sie hier: